Bike Bells for Cyclists & Walkers
Multiuse paths like the Warren County Bikeway are used by walkers, runners, & cyclists of all levels.  Using a bell helps inform a path user when they are being passed.  Here are some guidelines for all path users on bell usage.  The goal is to make the path safe and pleasurable for everyone.
"Cycling the Hudson and Champlain Valleys" Book Review
A review of the new book Cycling the Hudson and Champlain Valleys.
A true Bicyclists Bring Business story
On the Harry Elkes Ride Saturday Sept 17, 2022, I met Karl and Charlotte, from Croghan, NY. Karl reminded me that we had biked together for a bit on the 32 mile loop in 2021. Throughout our ride, …
Speed & Safety of EBikes on the Bikeway
With the limited research papers available:
The speed difference between conventional and Class 1 & 2 EBikes is not significant.
Research has not found definitive negative or positive safety impacts due to e-bike technology.
Jack LaBombard '63 hits another milestone
Teaser: At 80, he biked the 100-mile Florida Keys to keep starting each decade with another athletic feat.
Right up front, know that Jack LaBombard '63 does not always take himself seriously.
Yes, that Jack LaBombard, one of the top high school wrestling coaches in New York state history with more than 390 victories for Queensbury's Spartans in his storied 38-year career.
Back in the Day: Bicycle Craze
Great article in Glens Falls Living on local bicycling in the 1880s.
See: glensfallsliving.com/blog/back-in-the-day-bicycle-craze.
Roger's Island
November 9th, 2020
Tony Krivitski
Just on the right, off  Route 197 as you cross the Hudson River into the Southern end of the town of Fort Edward, NY.
Roger's Island Visitor Center, Fort Edward, NY.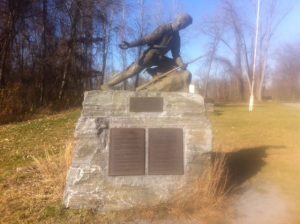 Although closed for the season, I rode around in it today & took a few pictures with a very olde iPhone!  Next time, I'll bring a real camera!  But don't bring your metal detector!  They aren't allowed on the grounds!  There's a Visitors' Center, albeit closed now for season.  Rode the dirt/course rock roadway on a Criterium, but a Mtn. Bike or "Off-Road" Hybrid would be better. . .
| | | |
| --- | --- | --- |
| Right-hand plaque facing road | Nearby monument with plaque | Plaque on monument |
| Left front plaque: | Right front plaque: | Little plaque @ top: |
It's an historical site, and though I've been by it many times, I never explored the area.  It also happens that I know the sculptress from Porter Corners, NY, Alice Manzi.
| | |
| --- | --- |
| | Go ask Alice! |
Rogers Island Historical Marker Database
+
Tour de Assembly Pointe
3/24/2021
Sadie & Lisa exploring Assembly Pointe
Bikes by Anthony's Bi-Rotate Chariots
photos by Tessa Klein Harber