Back in the Day: Bicycle Craze
Great article in Glens Falls Living on local bicycling in the 1880s.
See: glensfallsliving.com/blog/back-in-the-day-bicycle-craze.
A BIG shout-out to a few of our Sponsors!

Rick's Bike Shop
And of course!  You should patronize them!

Grey Ghost Bicycles
Two locations!  Glens Falls & Saratoga. . .whichever is closer to home for you.
Roger's Island
November 9th, 2020
Tony Krivitski
Just on the right, off  Route 197 as you cross the Hudson River into the Southern end of the town of Fort Edward, NY.
Roger's Island Visitor Center, Fort Edward, NY.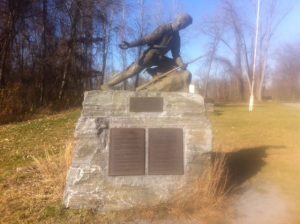 Although closed for the season, I rode around in it today & took a few pictures with a very olde iPhone!  Next time, I'll bring a real camera!  But don't bring your metal detector!  They aren't allowed on the grounds!  There's a Visitors' Center, albeit closed now for season.  Rode the dirt/course rock roadway on a Criterium, but a Mtn. Bike or "Off-Road" Hybrid would be better. . .
| | | |
| --- | --- | --- |
| Right-hand plaque facing road | Nearby monument with plaque | Plaque on monument |
| Left front plaque: | Right front plaque: | Little plaque @ top: |
It's an historical site, and though I've been by it many times, I never explored the area.  It also happens that I know the sculptress from Porter Corners, NY, Alice Manzi.
| | |
| --- | --- |
| | Go ask Alice! |
Rogers Island Historical Marker Database
+
Tour de Assembly Pointe
3/24/2021
Sadie & Lisa exploring Assembly Pointe
Bikes by Anthony's Bi-Rotate Chariots
photos by Tessa Klein Harber