Adirondack Cycling Advocates, Inc. (ACA)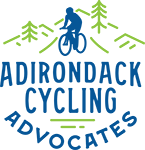 REQUEST FOR FUNDING YOUR PROJECT(S) SUPPORT
INTRODUCTION
Adirondack Cycling Advocates, Inc. (ACA), formally recognized by the Warren County Board of Supervisors, is a not-for-profit organization established in 2011. The mission of ACA is to promote the expansion of first rate cycling opportunities in our area. In order to achieve our mission, collaboration with bicycling organizations, elected officials, businesses, and community members is ongoing and essential for our success. ACA has a modest budget used to support other groups by funding projects that meet and enhance ACA goals. ACA goals strive to:
Educate and encourage bicyclists, motorists, and the public to follow the rules of the road.

Advocate for safe bicycling on public roads.

Provide additional directional and safe bicycling signage on Warren County roads, the Bikeway, and connector paths.

Support municipalities, businesses, and property owners in the expansion of existing and newly-developed mountain biking trails and connector paths throughout Warren County.

Promote and advertise Warren County as a "Destination for Bicyclists".
STATEMENT OF PURPOSE
The purpose of this Proposal for Project Funding is to invite requests for funding projects that support the five ACA goals. ACA will conduct a fair evaluation of the proposal to determine if the proposed project matches and supports the goals of the ACA.
PROPOSAL SUBMISSION FORMAT
Contact Information

Name(s), address, contact information (include preferred method of communication)

Description of business/organization

R

eferences/job experience (re: this funding request)

Proposed Outcome

Project summary: as it pertains to ACA goals.

Project description: (be specific – work to be completed including any pertinent details, maps, etc.)

Impact Statement: any environmental and/or community impact statements, any approvals, any long-term maintenance plan

Summary of the timeline (projected start, length of project, and end date)

Cost Proposal and Breakdown

Dollar amount requested for this project

Detailed list of expected costs or expenses related to the proposed project

Summary of the total cost of the proposal.
GUIDELINE FOR SUBMISSION: Requests may be submitted at any time. However, after an application is received, the Board of Directors requires a two-month time period to review and vote for approval before the request can be included in the budget. If the applicant wishes to receive funding for the following year, the funding request should be submitted by October 1. Applicants will be notified of acceptance or denial by December 30. In certain cases, if the Board approves and has available funds, payment may be approved in the current year. Payment will be made after an itemized voucher for the requested amount is received.
Please email completed application to: [email protected]
If sending a written application, mail to: Box 64, Glens Falls, NY 12801
RFP approved 10/20/2019 final revision 1/4/2020.  Also, a  .PDF thereof:
An on-line form, if you prefer: