Ididaride!, the ADK's Adirondack Bike Tour.  The Event will take place in North Creek on Saturday, July 27th 2019.  The address is 79 Ski Bowl Road, North Creek.  Co-ordinates:  43˚41'56.9″N and 73˚59'31.3″W.
As ADK's largest (and their 14th) annual event, expect close to 500 riders between both the 75-mile road course and the 23-mile off-road course.  The 75-mile route travels from North Creek, to Speculator, to Indian Lake, and back to North Creek on Route 28.
ADK is dedicated to the conservation, preservation, and responsible recreational use of the New York State Forest Preserve and other parks, wild lands, and waters.  These are the "commons" to our area vital to our members (30,000) and chapters (27) all across NYS.
This year, we are offering Mile Marker signs to local businesses and others, to support ADK's conservation, preservation and advocacy efforts, as well as promote your business.   Signs are 18" x 24", full color, weather-resistant, staked, and will be placed along the 75-mile route, Route 8 to Route 30 Speculator/Indian Lake, and Route 28 back to North Creek.  Cost is $100/sign.  (Note:  WCSQBO purchased a Mile Marker Sign – look for it as you ride this challenging course!)
Please give Sunday Conine, their Annual Fund Manager, a call to discuss further at 518-668-4447 ext. 42, or simply purchase your sign and upload your logo here:  https://www.adk.org/play/cycling-information/ididaride/
Riders register here:  https://www.adk.org/wp-content/uploads/2019/03/Rider-Registration-Form19.pdf
You can visit in person as well.  ADK can be found @ 814 Goggins Road, Lake George, NY 12845
Stop in at the "logs & mortar" location and shop, or talk to them about the ride or joining the organization.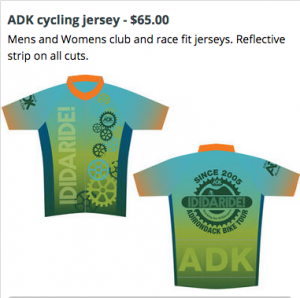 http://www.bikewarrenco.org/event/adirondack-mountain-clubs-ididaride/